Dog Training Group Classes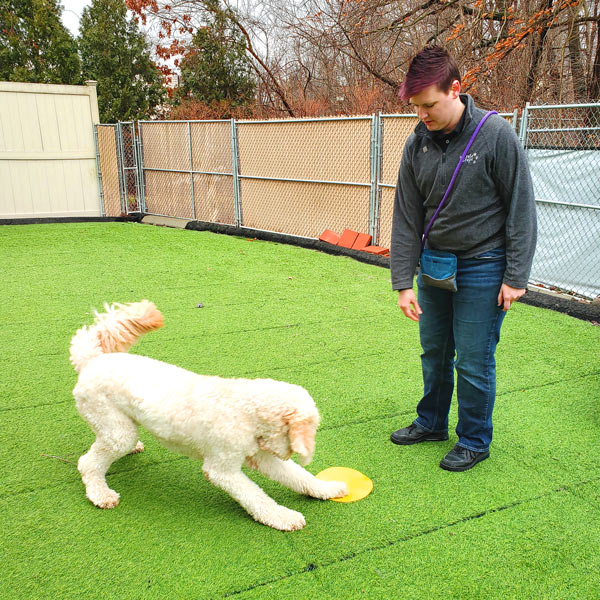 Do your dog's manners need some work? Our fun and effective group dog training classes can improve your dog's behavior and teach him the skills he needs to know.
Classes are currently in session. Our next session will begin late summer/early fall 2021.
Registration is CLOSED
6 week session $240
Beginner
In the Beginner class, you and your dog will learn a variety of behaviors that will lay the foundation for a great relationship between you two. These behaviors include the basics like sit and stay, but they'll also include attention exercises like making and maintaining eye contact. And of course, you'll learn how to lay the groundwork for loose leash walking!
Intermediate
As well as introducing some new behaviors, the Intermediate class builds on many of the behaviors learned in the Beginner class and takes them to the next level. Your basic behaviors will start to be tested with longer stays and learning to have a behavior like sit on the verbal cue only. You'll also have the opportunity to work with some extra distraction to start making the behaviors you've learned rock solid.
Advanced
The Advanced class continues to increase the distraction level by happening primarily outside. Everything becomes much harder when squirrels and all kinds of new smells are involved. We go back to the basics in this new, distracting environment, reworking things like stay and recall, and fine tuning loose leash walking.
Canine Good Citizen Award (CGC)
From the AKC Website: "CGC is a ten-skill training program that's open to all dogs—purebred and mixed breed—that focuses on teaching the basics of good manners and obedience, instilling the values of responsible ownership, and strengthening the bond between you and your dog at home and out in the community.
After mastering the ten skills, passing the CGC test together, and taking the Responsible Dog Ownership pledge, you and your pup will join the proud ranks of over 1 million dogs who have earned their Canine Good Citizen award—an accomplishment that's definitely worthy of extra belly rubs!"
AKC S.T.A.R Puppy
From the AKC Website: "Training classes teach you how to best communicate with your puppy. Organized training classes also provide an opportunity for your dog to socialize with other dogs. In classes aimed at earning the AKC S.T.A.R. Puppy distinction, you'll be able to get information on all of your puppy-raising questions including house training, chewing, and the most effective way to teach practical skills such as coming when called. AKC S.T.A.R. Puppy training is a natural lead in to the AKC® Canine Good Citizen® Program."
Schedule for Classes Starting June 7, 2021:
Monday:
5:30 PM Beginner with Marisa FULL
6:30 PM AKC S.T.A.R. Puppy with Marisa FULL
Wednesday:
5:30 PM Intermediate with Avery
6:30 PM Beginner with Avery
Thursday:
5:30 PM Canine Good Citizen with Marisa. CANCELLED
Saturday:
10:00 AM AKC S.T.A.R. Puppy with Avery FULL
11:00 AM Beginner with Avery FULL