Dog Training Group Classes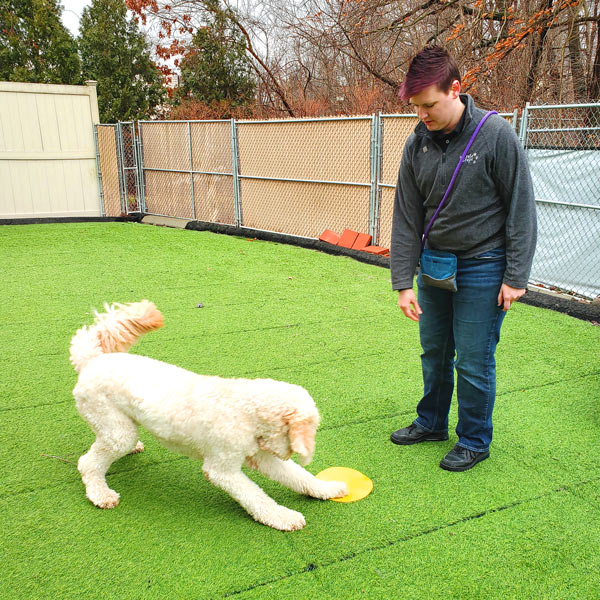 Do your dog's manners need some work? Our fun and effective group dog training classes can improve your dog's behavior and teach him the skills he needs to know.
Our next session will begin September 10th, 2022
6 week session $240 plus tax
Beginner
In the Beginner class, you and your dog will learn a variety of behaviors that will lay the foundation for a great relationship between you two. These behaviors include the basics like sit and stay, but they'll also include attention exercises like making and maintaining eye contact. And of course, you'll learn how to lay the groundwork for loose leash walking!
Intermediate
As well as introducing some new behaviors, the Intermediate class builds on many of the behaviors learned in the Beginner class and takes them to the next level. Your basic behaviors will start to be tested with longer stays and learning to have a behavior like sit on the verbal cue only. You'll also have the opportunity to work with some extra distraction to start making the behaviors you've learned rock solid.
Advanced
The Advanced class continues to increase the distraction level by happening primarily outside. Everything becomes much harder when squirrels and all kinds of new smells are involved. We go back to the basics in this new, distracting environment, reworking things like stay and recall, and fine tuning loose leash walking.
Puppy
The Puppy class is a great way to help your puppy learn the basics and meet some new friends. You'll learn things like crate training and potty training, as well as some foundational behaviors like Sit and Recall. In most classes, we save time at the end for some puppy play time to help the pups learn how to play nicely with each other.
Fall 2022 Class Schedule
Puppy Class: Saturdays at 10:00 AM starting 9/10 or Mondays at 5:30 PM starting 9/12.
Beginner Class: Saturdays at 11:00 AM starting 9/10 or Mondays at 6:30 starting 9/12.
Intermediate Class: Saturdays at 12:00 PM starting on 9/10.