Dog Training Group Classes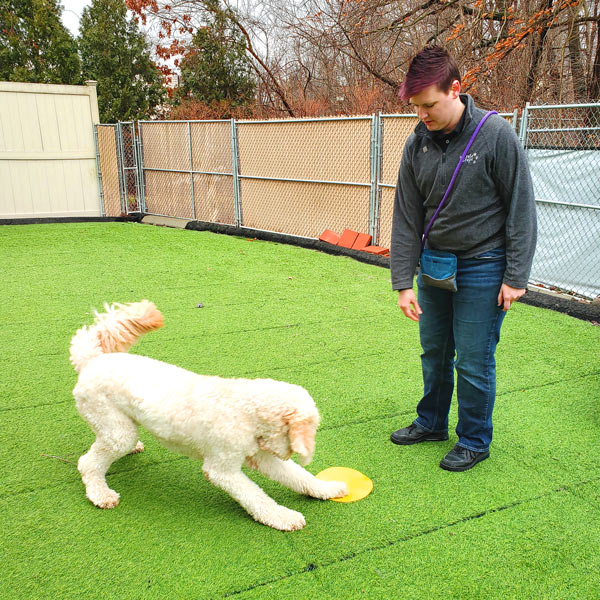 What are LEVELS Dog Group Obedience Classes?
Update 09/08/2020 Classes will be held indoors on Monday and Tuesday nights at 5:30pm, and Saturdays at 11:00 am for all LEVELS. Reservations Required
Traditionally, Basic Dog Training group classes are taught for several weeks in a row, the same night and time each week, and cover a lot of behaviors during that time. If you and your dog learn things more quickly, then you may find yourselves bored, eager to move at a faster pace. But maybe it takes a little more time for you and your dog to get each behavior just right. In that case, you might become frustrated, feeling like you're being left behind. Whatever the case may be, the solution is a class with a different format: LEVELS Dog Training Classes.
In a Levels Training format, you and your pup get to move at the speed that's best for both of you. Each level has a list of behaviors to learn and master before you can move on to the next set of behaviors, building on what has come before. As you build a firm foundation of skills, more complex behaviors are easier to learn and are more reliable because they can fall back on what's been previously mastered.
The Behaviors
Our certified dog trainer will coach you through training each behavior, and when you're ready to move on, they will let you know that you've "leveled up." When you've "leveled up," you can come to a class of any level, up to the level you've earned, which can accommodate a busy schedule or test learned behaviors with a different kind of distraction. For instance, if you and your dog are working on Level 3 behaviors, you can attend a Level 1, 2, or 3 class.
The behaviors taught in the Levels Training Classes are designed to help your dog become an AKC Canine Good Citizen should you choose. Each level adds new behaviors or increases the difficulty of previously learned skills to help build a firm foundation for your dog.
Level 1
Handling/Bodywork
Name Game
Sit
Recall: 5 ft with a Front Sit
Loose Leash: no leash with high reinforcement
Level 2
Down
Sit/Stay
Stand
Off
Recall: 10 ft with a Front Sit
Loose Leash: on leash with high reinforcement
Level 3
Down/Stay
Leave It
Touch
Recall: 20 ft with Front Sit
Loose Leash: on leash with low reinforcement
Heel position
Go to Mat
Level 4
Stand/Stay
Recall: 10 ft with Front Sit and distractions
Sit/Stay with distractions
Down/Stay with distractions
Loose Leash with distractions
Heel position
Down on Mat
Level 5
Long Stays with distractions
Heel position while walking
Down/Stay on Mat
Recall: 20 ft with Front Sit and distractions