Grooming
Your doggie plays hard – so when it's time to clean up, professional grooming can help him look, feel, and smell his best from head to tail!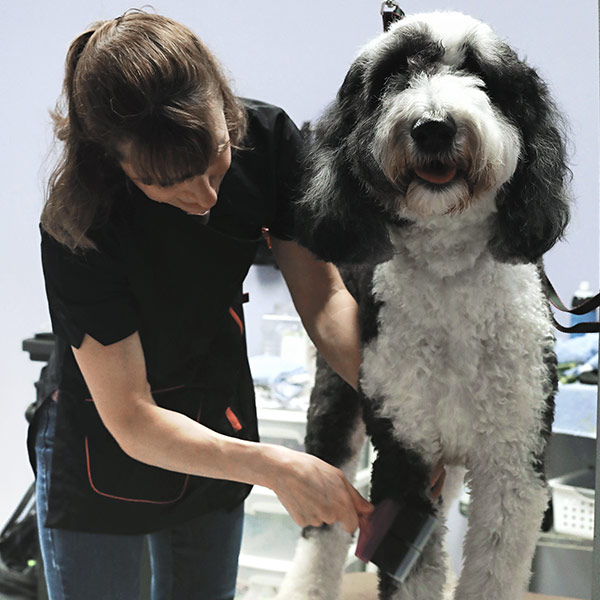 Leave the cleaning to us. The Crate Escape offers basic bathing and brushing to keep your pup looking and smelling fresh. Specialty shampoos for dogs with sensitive or itchy skin are also available at no extra charge.
For the safety of all our canine clients, please remember that proof of the rabies vaccination is required.
Contact us for an appointment ›
Bathing Prices
Prices vary by breed, size, and coat condition. All prices subject to sales tax.
Basic Bath
Includes bath, brush out, ear cleaning, and nail trim (de-matting not included).
Small (Under 35 lbs): $36
Medium (36-55 lbs): $42
Large (56-75 lbs): $46
Extra Large (76-95 lbs): $52
XX- Large (96-120 lbs): $60
Giant (121 lbs and up): $70
Bath and Tidy
Includes bath, brush out, ear cleaning, nail trim, and trimming around face, feet, feathers, sanitary area, and tail (body, legs, and de-matting not included).
Small (Under 35 lbs): $48
Medium (36-55 lbs): $53
Large (56-75 lbs): $63
Extra Large (76-95 lbs): $73
XX-Large (96-120 lbs): $85
Giant (121 lbs and up): $100
Double coated breeds are subject to an additional fee depending on coat thickness and time required