Dog Boarding & Sleepovers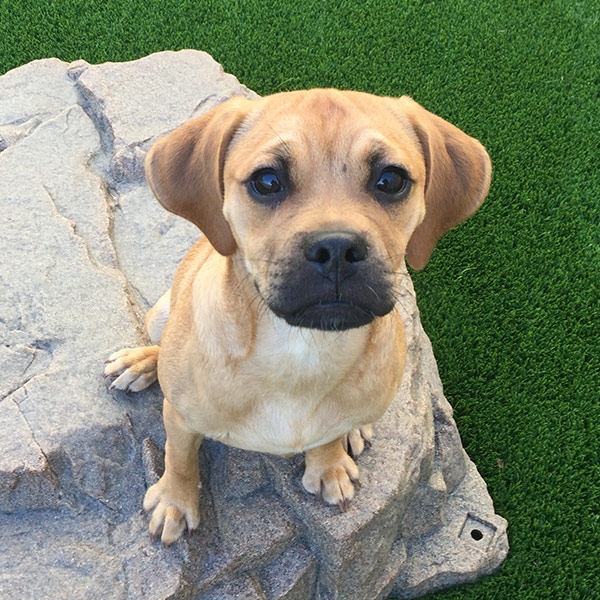 There's no place like home, but boarding at The Crate Escape is the next best thing! After a day of fun, your dog will unwind in a safe, clean, and cozy space he'll paw-sitively love.
A vacation isn't very relaxing if you're worried about your furry friend being locked in a kennel all day! Put your mind at ease – when your doggie gets to stay at The Crate Escape, he's on a vacation of his own! Our sleepover guests get to participate in all the fun of our doggie day care, and in the evening they will each be tucked into their own private runs for a good night's rest.
What to know before you dig in...
Arrive early:
A tired dog is a happy dog. They will have a much easier time settling in at night if they have had a few hours of play. The price of daycare is included on the day you drop off.
Leave your bedding at home:
In order to maintain a clean environment for everyone, The Crate Escape will provide your dog with a raised orthopedic cot. Fleece bedding is available at an additional charge
Bring your own food:
Sensitive tummies do best when kept on a regular diet. Please only provide enough food for your stay. Bring food in a ziploc baggie or small container, as we do not have the space to store your large bins and bags of food.
Medication
We will administer any vet-prescribed medication at no additional charge. Please make sure they are in the original container.
To join us for a sleepover, your dog must be:
At least 4 months old
Spayed or neutered (if over 6 months)
Current on vaccinations for rabies, distemper, bordetella (canine cough), and canine influenza
Shown with proof of negative fecal exam from within the past 6 months
In good health and free of fleas and ticks
Friendly with people and other dogs
Boarding & Sleepover Pricing
Overnight guests will participate in all-day group play as well as receive any vet-prescribed medications at no additional charge. Dogs from the same family may share a run. All passes are non-refundable.
1 Dog: $48/night
2 Dogs Sharing: $82/night
3 Dogs Sharing: $120/night
Sleepover Add-Ons
In addition to our cozy boarding cabins, we offer the following options to make your pup's stay even more comfortable:
Warm and Fuzzy Fleece Bedding: $3/day
Raw Beef Marrow Bone: $5
Brush Out (10 minutes): $10
Eye Cleaning: $2/day
Ear Cleaning: $5/day
Nail Trim: $10
Tooth Brushing: $10
One-on-One Playtime: $10/15 min
Leash Walk: $10/15 min