Dog Training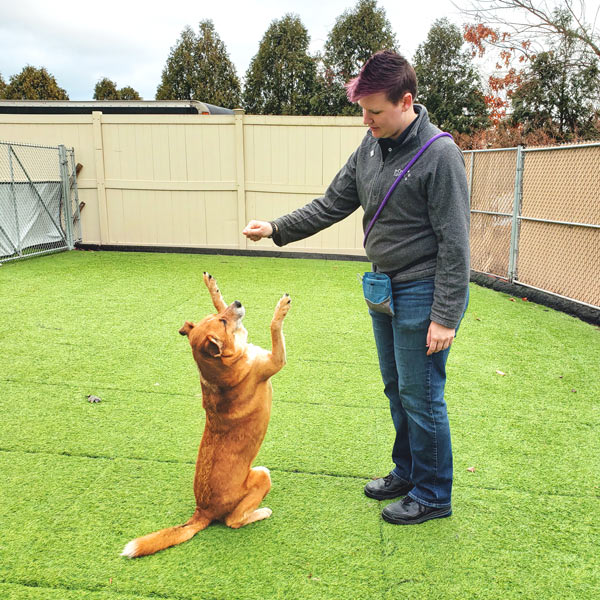 Does your dog have beastly manners? At The Crate Escape, our dog training classes will teach you and your dog the obedience basics and help your dog unleash his inner Very Good Boy (or Girl).
We are taking dog obedience training to the next level. Our new LEVELS dog training program allows you and your dog to move at the pace that's best for you, each step of the way. The Obedience Levels group classes build a firm foundation for your dog as we focus on the behaviors that are required to become an AKC Canine Good Citizen.
Classes are on a rolling admission and you only pay for what you use.
Currently dog training classes are offered every Monday and Tuesday at 5:30pm as well as Saturday at 11:00 am.
5 Classes: $200
10 Classes: $380
20 Classes: $760
Private Dog Training Lessons
Our private lessons offer a flexible and personalized training program. These one-hour sessions can be held in the comfort of your own home, or at our facility in Wallingford. After an initial consultation, you'll work closely with our certified dog trainer to set and achieve goals specific to your dog and lifestyle.
Pricing based on location
Doggie Day School
Add a 30-minute dog training session while your dog is here for daycare or boarding. These one-on-one lessons can be part of a larger training plan, or a one-time enrichment experience. You'll provide input on what you'd like your dog to work on during these sessions, and you'll receive a report card at the end of the day with the results.
$20 per session (plus the cost of daycare or boarding)
Available Every Tuesday!
Recent Dog Obedience School Graduates