Doggie Day Care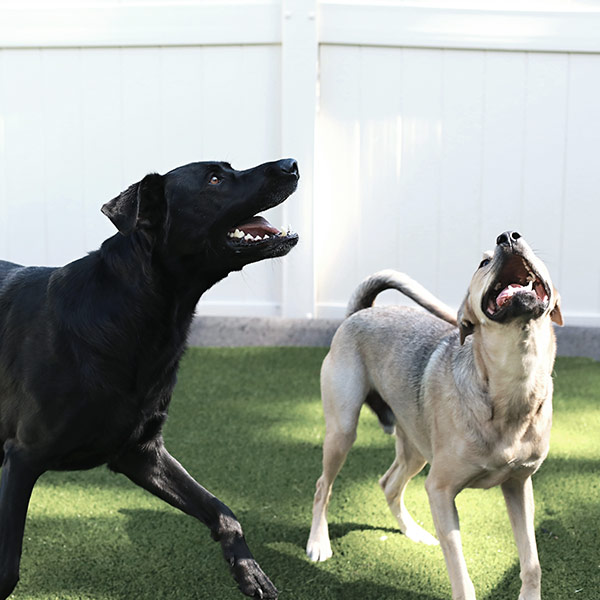 Plenty of friends, lots of affection, and tons of activities make day care at The Crate Escape a dog-gone good time!
Is your dog bored or lonely while you're gone during the day? The Crate Escape's doggie day care, conveniently located in central Connecticut, is the perfect solution for dogs that need a little more excitement! We have separate indoor and outdoor play areas where dogs are grouped based on size, temperament and play style. With a variety of fun toys and activities, dogs get as much exercise as they desire – so they'll come home tired and happy!
What to know before you dig in...
Feed your dog at home:
We do not recommend sending snacks in for lunch time. We will feed puppies under 9 months old, or dogs who need mid day meals for medical reasons during a break around noon. All lunches must be owner provided and in an individual Ziploc baggie with the dogs name clearly printed on it.
Leave your bedding at home:
Dogs are put in individual runs to rest during breaks. Please note that bedding from home is not permitted.
Evaluation Process:


We reserve the right to refuse service to any dog who we don't think will be a good fit at our facility. All dogs must come in for an Evaluation Day prior to scheduling any daycare or boarding. Evaluation Day's are scheduled M-F with drop off between 6:30am-7:30am and pickup after 12:00pm (dogs are welcome to stay whole day if they do well). During that time we will slowly introduce your dog to several dogs, eventually integrating them into a group. The Evaluation day is $40 and is not refundable.

Any dog who has not been here in over 6 months must repeat the evaluation process.
To join in the day care fun, your dog must be:
At least 4 months old
Spayed or neutered (if over 6 months)
Current on vaccinations for rabies, DHPP, and bordetella (canine cough)
Shown with proof of negative fecal exam from within the past 6 months
Provide copy of Town Dog License for our files
In good health and free of fleas and ticks
Friendly with people and other dogs
Day Care Pricing
Day care passes can be used Monday through Saturday. Must call 24 hours in advance for a reservation. All passes are non-refundable. Half day dogs must be picked up by noon. We do not offer afternoon half days. Prices subject to sales tax.
1 Day: $40
5 Days: $190
10 Days: $350
20 Days: $660
Half Day or 2nd Dog From Same Family: $30/day
2 Dogs, 5 Days: $330
2 Dogs, 10 Days: $630
2 Dogs, 20 Days: $1180