Doggie Day Care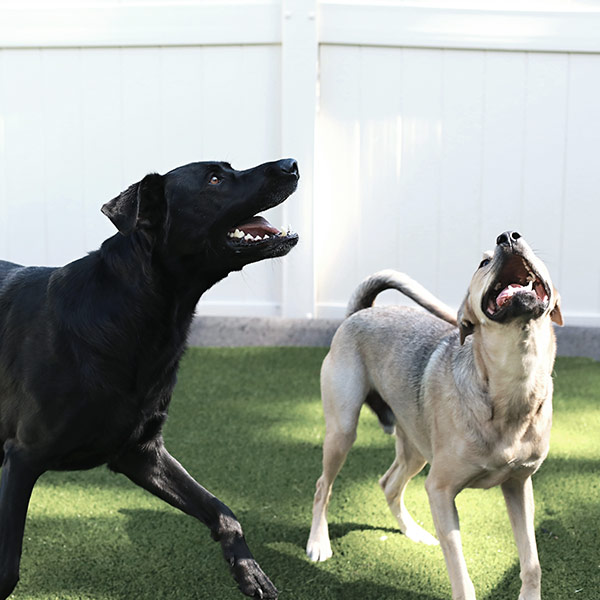 Plenty of friends, lots of affection, and tons of toys make day care at The Crate Escape a dog-gone good time!
Is your dog bored or lonely while you're gone during the day? The Crate Escape's doggie day care, conveniently located in central Connecticut, is the perfect solution for dogs that need a little more excitement! We have separate indoor and outdoor play areas where dogs are grouped based on size, temperament and play style. With a variety of fun toys and activities, dogs get as much exercise as they desire – so they'll come home tired and happy!
Dogs are constantly supervised throughout the day, and you can check in on them anytime via our live webcams!
What to know before you dig in...
Feed your dog at home:
We do not recommend sending snacks in for nap time. We will feed puppies under 9 months old, or dogs who need mid day meals for medical reasons during our nap time. All lunches must be owner provided and in an individual Ziploc baggie with the dogs name clearly printed on it.
Leave your bedding at home:
Dogs are put in individual runs to rest during naptime. Please note that bedding from home is not permitted.
For the first day or shy dogs:
If it is your dog's first day, or if he/she tends to be nervous, please try to get them here as early as possible (we're here at 6:30 am). Walking into a room of 30+ dogs and having everyone try and say "hello" at the same time can be overwhelming, so it makes for a much easier transition if they are the first ones here and greet everyone as they arrive.
To join in the day care fun, your dog must be:
At least 4 months old
Spayed or neutered (if over 6 months)
Current on vaccinations for rabies, distemper, bordetella (canine cough), and canine influenza
Shown with proof of negative fecal exam from within the past 6 months
In good health and free of fleas and ticks
Friendly with people and other dogs
Day Care Pricing
Day care passes can be used Monday through Saturday. Must call 24 hours in advance for a reservation. All passes are non-refundable. Half day hours are 6:30am-12:00pm or 12:00pm-6:00pm.
1 Day: $32
5 Days: $150
10 Days: $280
20 Days: $520
Half Day or 2nd Dog From Same Family: $22/day
2 Dogs 1 Day: $54
2 Dogs, 5 Days: $250
2 Dogs, 10 Days: $480
2 Dogs, 20 Days: $920